Delivery & Payments
Searching C aims to deliver your items in the fastest time possible!

We ship your order via courier services PosLaju, Gdex for local delivery and DHL for international delivery. 

For ready stock items, your order will ship within 3-5 business days,
or alternative 7-30 business days for pre-order items after order confirmation.

We accept credit card payment (including Visa, MasterCard and American Express) and Apple Pay.

7 DAYS FREE RETURN.


Contact us
Whatsapp/Hotline at +60176930538
https://wa.me/message/RYEICAPK7BKXN1 
Email: my@searchingc.com
Overview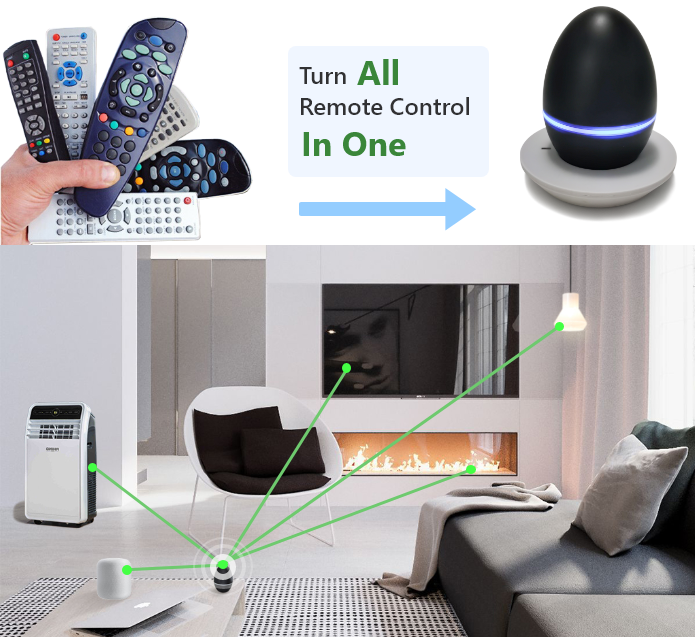 Managing all the various remotes can be a real pain, especially when the ones you want are missing, broken or mixed up. It could be dangerous too, given the prevalence of the current pandemic and the fact that remote is reportedly to be the germiest thing in your room — more disease-causing germs than the bathroom door handle.
Introducing SmartEgg Pro, the ultimate smart control that rules all the infrared home appliances and makes your life easier, healthier and better.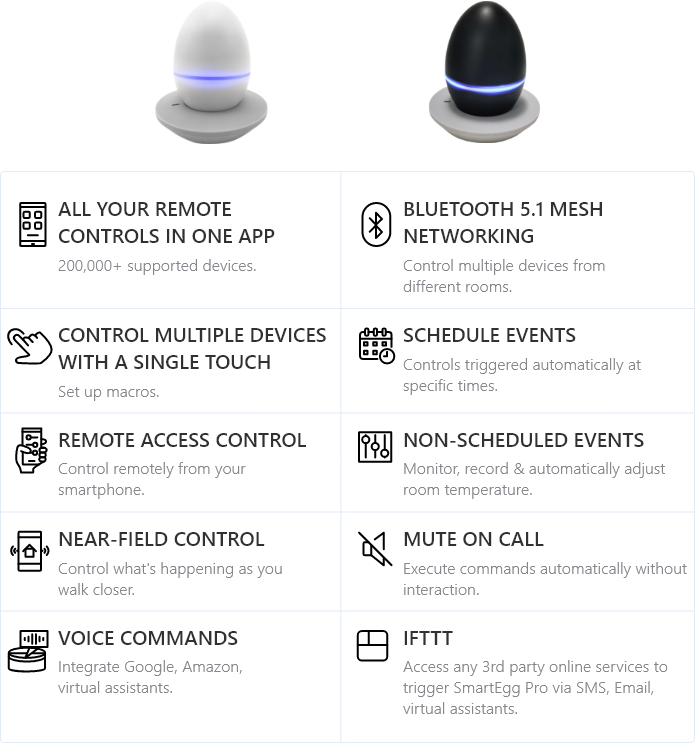 SmartEgg Pro can learn or copy from any IR remote for you to control everything using just its App: TV, cable box, projector, DVD player, Blu-ray, Apple TV, Fire TV, audio system, game player, air conditioners, heaters and lights, more than 200,000 (with more added daily) different kinds of household devices. 
The SmartEgg Pro App is user-friendly, extremely versatile and powerful.
It also protects you and your loved ones from touching the remotes crawling with bacteria, viruses and other nasty organisms capable of transmitting colds, infections and diseases.

reate a series of most used commands and activate it all with one touch on your smartphone. 

For instance, you could set up a "leaving home" event that turns off lights and heatings as you are leaving for the day to save energy or a "football night" event that turns on TV, stereo and cable box, set to a certain channel and volume and dims the lights for you.

Connect with SmartEgg Pro over WiFi network to control devices at home from your mobile device when you are away on a trip or beyond its Bluetooth range. 
You could have your home robotic vacuum cleaner crawl around the floors sweeping the dust anytime you want when you are far off on a trip.

Trigger automated tasks according to your location ranges from 0.1m~50m (with the Bluetooth turned on and the App running on the background on your phone)to the SmartEgg Pro.
Imagine this, as you walk in, your bedroom lights, A/C, TV, cable box, stereo will automatically turn on for you without you touching any remote or smartphone.

SmartEgg Pro works with Echo,  Google Home, so you can speak to these voice assistants to control SmartEgg Pro to send 360° full coverage IR commands to smart home products.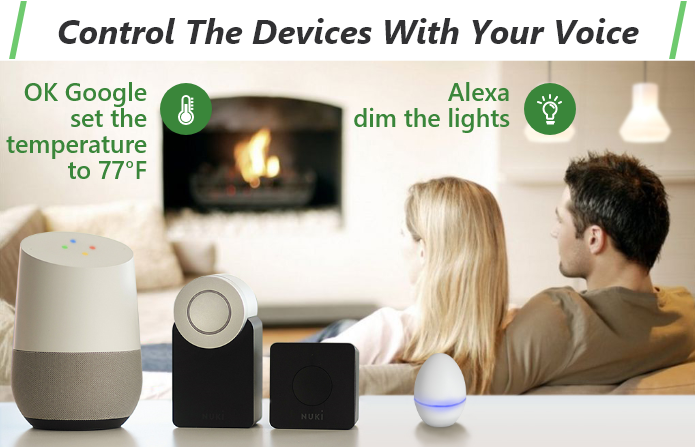 SmartEgg Pro surpasses other remotes with its advanced Bluetooth 5.1 mesh networking, that is many-to-many SmartEgg Pro communications optimized for creating large-scale networks to cover every corner of your house.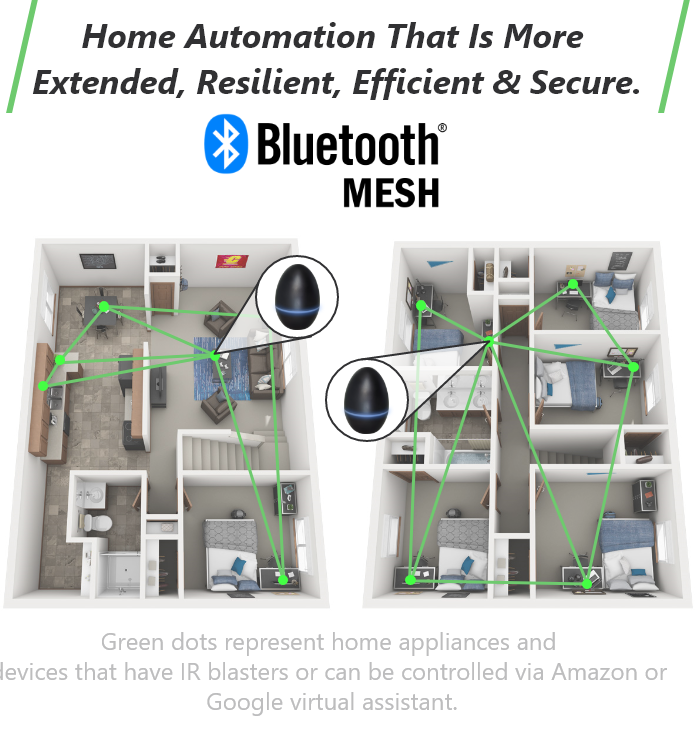 This is ideal for secure and reliable automations even without internet connection of a large number of devices in different rooms in your house. Devoid of internet access, you can still perform off-line controls through SmartEgg Pro to all the devices on the Bluetooth mesh. The internet is only necessary when downloading a new remote to SmartEgg Pro or to using it with a third device which requires an internet connection.

You can schedule time-related commands using SmartEgg Pro, such as turning on or off the lights and closing or opening motorized blinds at specific times on specific days needless for you to say or touch a thing.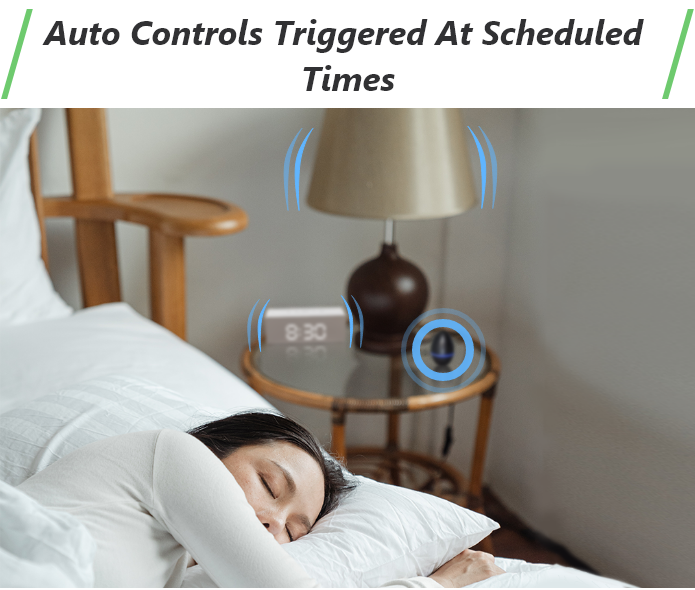 The built-in thermometer in the SmartEgg Pro monitors realtime room temperature, records it in the App (12 months max.) and uses the set thresholds to govern the heating/cooling system to keep the room temperature pleasant and the energy usage low.

SmartEgg Pro supports IFTTT to create chains of customary conditional actions with all your applications and appliances. For example, if a food delivery app informs SmartEgg Pro that the food is at your door, then SmartEgg Pro will send commands to turn on the outdoor lights and unlock the front door for the food delivery person automatically.


SmartEgg Pro will immediately auto mute any device with volume control (speakers, stereos, TV, media players, etc.) when an incoming or outgoing call is detected for a clear and uninterrupted phone call. It will resume the volume when the phone call ends.

Unlike other universal remotes that require constant power plugging or frequent battery replacement, SmartEgg Pro has a long battery life of 3~6 months and is cordless that can be freely placed anywhere in the house or wherever you go. Simply sit it on the removable base in contact with the magnetic PINs for a quick recharge.