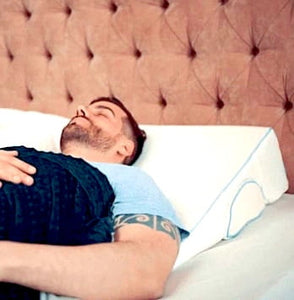 Delivery & Payments
Searching C aims to deliver your items in the fastest time possible!
For ready stock items, we will ship your order from our warehouse within 2 business days via courier, and it typically takes approximately 7-10 days for them to arrive at your shipping address.

We accept credit card payment (including Visa, MasterCard and American Express) and Apple Pay.
Contact us
Whatsapp/Hotline at +60176930538
https://wa.me/message/RYEICAPK7BKXN1 
Email: my@searchingc.com
Overview
Comfy Night, made in the USA, is taller than regular pillows, providing a comfortable and soft support that helps you fall asleep faster. The design takes into account the pressure different parts of your body experience while sleeping. Comfy Night offers a set of three pillows, allowing you to arrange them according to your preferences, thereby reducing pressure points.
The pillows are filled with memory foam, which provides a soft and comfortable feel. This feature makes them particularly suitable for side sleepers, reducing the chances of joint pain caused by pressure. Additionally, they are well-suited for individuals who spend long hours sitting or standing, helping to improve blood flow to the upper body during sleep.
Thanks to its wedge shape, the pillow makes sure your head is above the stomach, which ensures that the acid doesn't make it into your gullet, reducing the frequency of heartburn.
The Wedged Pillow has a hollow slot for a shoulder, where you can put your arm, ensuring straight spine and proper posture of shoulders and neck.
With the Knee Pillow, you may position your legs without in a way that won't bend your spine, providing low pressure on knees and hip joints.
Wedge shape provides tilted posture of your torso, making it impossible to throw your head back, which is a common cause of snoring.
By putting the pillow under your legs and knees. This position reduces fatigue and improves your blood circulation.