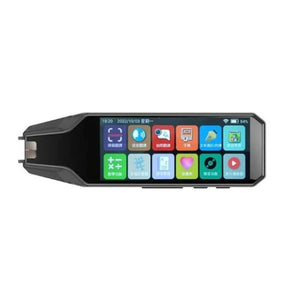 Delivery & Payments
Searching C aims to deliver your items in the fastest time possible!

We ship your order via courier services PosLaju, Gdex for local delivery and DHL for international delivery. 

For ready stock items, your order will ship within 3-5 business days,
or alternative 7-30 business days for pre-order items after order confirmation.

We accept credit card payment (including Visa, MasterCard and American Express) and Apple Pay.

7 DAYS FREE RETURN.


Contact us
Whatsapp/Hotline at +60176930538
https://wa.me/message/RYEICAPK7BKXN1 
Email: my@searchingc.com
Overview
Blackleaf 2.0 Translating Pen Upgraded Monitor Note: When charging, you need to use a USB charging plug with an output rate of 5V and a current of 1A, please pay attention.
【Chinese】
Explanation of a lot of words
Stroke order learning
Tang poetry translation
Analysis of ancient poems
Idiom explanation


【mandarin】
Pronunciation teaching of initials and finals New‼ ️
Mandarin Oral Assessment Test
Mandarin Pinyin scanning


【English】
Phonics pinyin practice New‼ ️
English word test for you New‼ ️
English oral assessment test
Massive English thesaurus


【math】
Handwriting Computer New‼ ️
Mental arithmetic practice of addition, subtraction, multiplication and division New‼ ️

Product Features
A variety of translation functions, high-speed recognition in 0.3 seconds, the accuracy rate can reach 99%, and the language covers more than 200 countries, which can quickly improve your foreign language ability
 [Offline Scanning and Translation] Supports 12 common languages, and can be used at any time without Wi-Fi. It can help you translate foreign language books, foreign language manuals and foreign language food labels in real time.
【Online Voice Translator】Support 113 languages, an indispensable tool for practicing foreign languages, traveling, business trips, and communication between housing and enterprise workers and elders
[Photo translation] 5 million pixel lens, high-definition shooting, offline translation of 12 common languages, and online translation of 113 languages, helping you easily and quickly translate large paragraphs of articles
 Text excerpts: Support 22 languages, no need to copy, instantly send text/articles to your mobile phone, tablet or PC, double the learning efficiency
3 pronunciation modes: [American/British pronunciation/Natural spelling], making it easy for you to master English pronunciation
Utilities: Chinese-English Dictionary, English-Chinese Dictionary, English-Japanese Dictionary, Chinese Dictionary, Recording Function, Video Player, Music Player, Favorites
Support multiple input methods: Pinyin, handwriting, Cangjie input method and Google input method
Set left/right hand scanning method
Support Type-C charging, 1800mAH large capacity built-in battery
Equipped with 256G SD card slot, customers can configure SD card by themselves and add translation pen memory
Global multi-country certification CE, RoHS, FC, quality assurance


Product Specifications
Model: MD07
Colour: Black
Product size: 155 x 45 x 17mm
Display size: 9.5cm x 4cm touch screen
Screen area: 38cm²
Processor: Quad-core ARM®️Cortex-A7
Network mode: WiFi, offline
Lens pixel: 500W
Material: ABS, glass
Weight: 117g
Internal memory: 8G + 256G SD card slot (customers configure SD card by themselves)
Bluetooth: Can connect to bluetooth speakers and headphones
Battery type: rechargeable lithium battery
Battery capacity: 1800mAh
Working hours: 6~8 hours
Standby time: 8 days
Input: Type-c
Rated input: 5V 1A
 Accessories: Type-c charging cable, screen film, protective case, user manual
Country of origin: China