Delivery & Payments 
Searching C aims to deliver your items in the fastest time possible!

We ship your order via courier services PosLaju, Gdex for local delivery and DHL for international delivery. 

For ready stock items, your order will ship within 3-5 business days, 
or alternative 7-30 business days for pre-order items after order confirmation.

We accept credit card payment (including Visa, MasterCard and American Express) and Apple Pay.

7 DAYS FREE RETURN.

Contact us
Whatsapp/Hotline at +60 18-295 2052 / Email: my@searchingc.com

Overview
The Puna & Crane knife are tiny in size - BIG on features. Check out our razor sharp EDC tools.
Tiny in size but big in features, is a multi-tool in disguise.
Perfect for cutting, twisting, prying, unscrewing or just fidgeting with.
Twist out the silencer to remove the micro screwdriver.
Also hiding in plain sight is a bottle opener.
The "Puna" is a knife designed for the modern world. Beautifully designed, meticulously engineered and exceptionally flexible, the "Puna" is your perfect everyday carry tool. Not only does it look amazing, it is extremely tough, and will withstand years of use.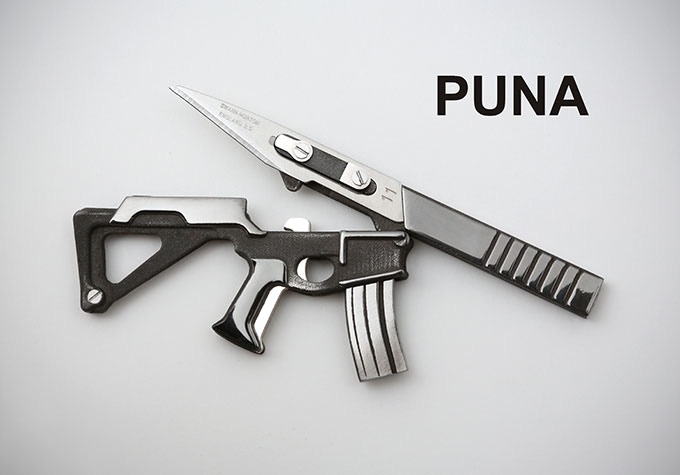 What we do  
Our mission, based in our London headquarters, is to design high-quality knives. Whilst small and discreet, our knives are incredibly useful around the studio. Our blades are sharp – surgically sharp – but when the blade does eventually go blunt, it can be replaced in just seconds.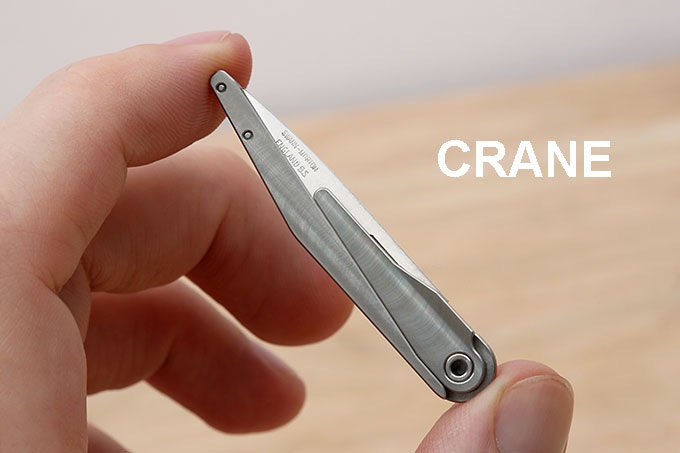 The "Crane" was the first knife we made, and it proved so useful in our day-to-day lives, we never left home without it. We thought that its small size would mean it would only be used as an emergency back-up, but the more we used it, the more we realised its small size was its main strength – and it is now our 'go to' tool for all jobs requiring a sharp edge.
What is the "Puna"?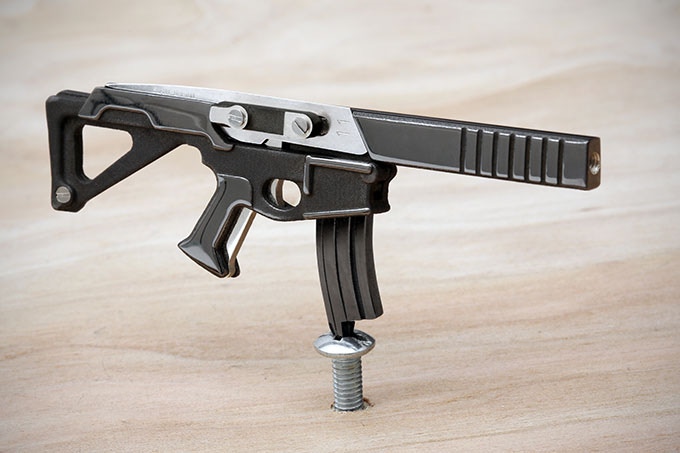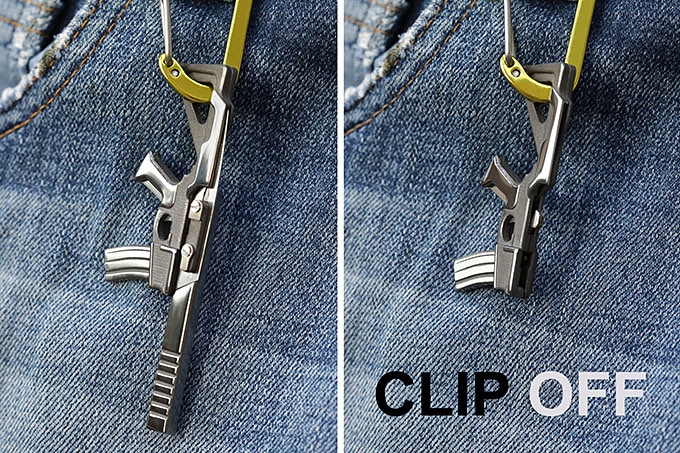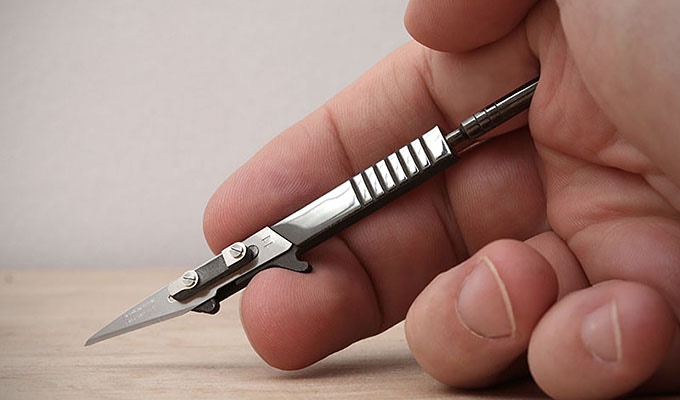 Once removed, the knife fits snugly in your hand. Its unique design pulls the blade securely under your finger, giving you unbelievable control. It really is the perfect precision cutting tool.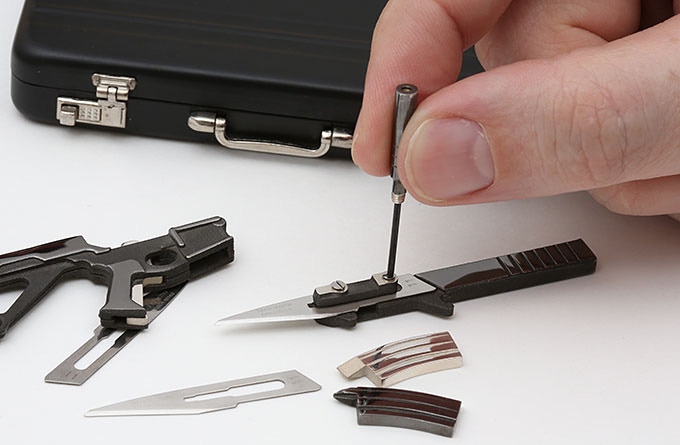 Changing blades on a traditional scalpel is dangerous – if not impossible – without the correct tools. The Puna's discretely hidden 'micro screwdriver' is a dedicated tool for maintaining the knife. Simply remove two screws and swap out the blades in a simple and safe way, without the need for any additional (and unnecessary) tools.

All our knives fold or unclip, which ensures they remain safe in your pocket, unlike the standard scalpel blade pictured above. These blades can be dangerous as they are always exposed, and there is no elegant way to carry it. 3 Coil knives, on the other hard, were created with safety and portability in mind.

Also hiding in plain sight is a bottle opener. We'll let you into a little secret here – this feature actually came about by accident. We noticed that the shape of the stock and grip made the perfect opener, and no multi-tool would be complete without an emergency beer opener!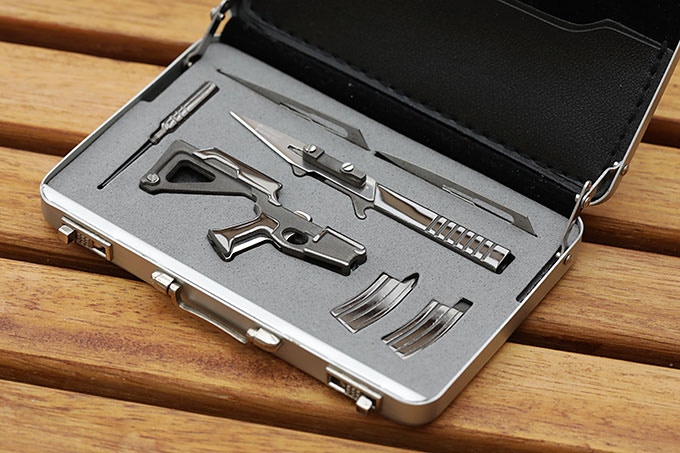 Just for you  
To show our gratitude to you for supporting our products, we want to create something truly memorable. Your help should be rewarded, which is why for the first production run only, we will deliver your tool in a special aluminium presentation case.
What's included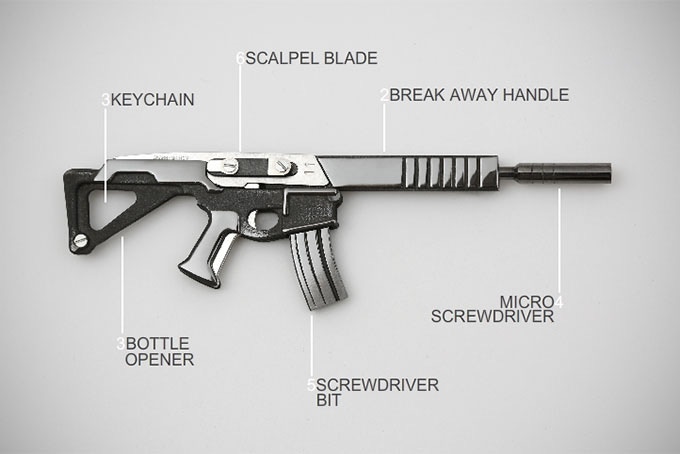 1. Exclusive presentation metal case with foam insert
2. Scalpel Blade and barrel handle 
3. Key-chain Stock with bottle opener 
4. Micro screwdriver
5. 2x Screwdriver bits Flat head & Pozi
6. 2x No.11 Scalpel Blades
 Technical info
Material:

 

Stainless Steel
Colour:

 

Black with silver details
Blades:

 

No.11 Blades only (will not close with other blades)
Length:

 

80mm, 101mm with silencer (3.15",3.97")
Width:

 

Barrel handle 3.75mm (0.15") - widest part 6.3mm (0.25")
Height:

 

29mm with screwdriver bit magazine (1.14")
Screwdriver:

 

1x 3.8mm Flat head & 1x PZ1 Pozi bit
Micro Screwdriver: length 38mm, Head 1.5mm flat

 

 
Presentation case
Material: Aluminium + Foam insert
Dimensions:  100 x 69 x 17 mm (3.93"x2.71"x0.67") 
Storage:

 

Puna and accessories + 6 credit cards / 20 business cards